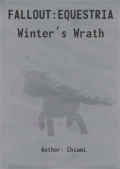 Last Update:
Tuesday, March 5th, 2013
Dark, Crossover, Adventure
Amethyst is a young maintenance mare who finds out that the water talisman within her stable is failing. She finds herself outside her stable in a bid to find a new one. The outside is not as it seems. With winter approaching, the horrors of the equestrian wasteland is waiting to test her patience, anger and willpower to claim the rare and valuable water talisman. With many obstacles standing in her way, Amethyst will embark on an epic journey and face the wrath of the Equestrian winter head on. It is true that the Equestrian wasteland is a tough place that can twist the kindest soul into the most horrible monster Will she founder like the many great wanders before her? Or will she shine as a beacon of light for all?
Credits for some of the awesome resources used on this site:
My Little Pony: Friendship is Magic is © Hasbro
Fallout and related games are © Bethesda Softworks
Fallout: Equestria is © Kkat
All other items are © their respective owners.